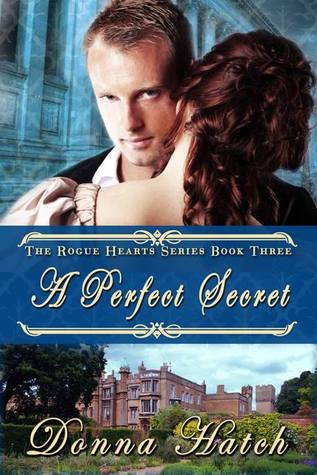 A Perfect Secret
(Rogue Hearts #3)
by Donna Hatch
Adult Historical Romance
Paperback, 348 Pages
December 14 2013
Desperate to protect her father from trial and death, Genevieve breaks off her engagement with Christian Amesbury and marries a blackmailer. After a year of marriage, she flees her husband's violent domination only to have fate bring her back to Christian. Just when she thinks she's started a new life of safety and solitude, her husband tracks her down, stalks her, and threatens everyone she loves.
Still brokenhearted over Genevieve's betrayal a year ago, Christian can't believe she's come back into his life--and worse, that she's done it on the anniversary of his brother's death, a death that haunts him. Though tempted to throw her back into the river where he found her, he can't leave her at the mercy of the terrifying man she married.
When her husband torments Genevieve and puts his family in danger, Christian will do anything to protect those he loves...anything except give Genevieve another chance to break his heart.
MY REVIEW!
A Perfect Secret follows Christian and Genevieve as she tries to hide from her husband who is trying to kill her. Before Genevieve was married to Wickburgh she was going to marry Christian. But like I said she had to save her family, hence her marrying an awful man. Christian being the gentleman that he is says he will help her, but soon feelings he thought long gone are coming back. He must keep his distance from her because she is a married woman. Genevieve on the other hand wants to be with him, but she doesn't think that he loves her anymore. SO they go about their relationship as just friends all the while pining for each other. Can Christian save Genevieve again before it's too late?

And what are they going to do when her husband is caught? You'll have to read to find out. :D
A Perfect Secret was romantic, scary, and an all around good book.
I love a good historical romance especially when I know its going to be a good one. I've read Donna Hatch before and she doesn't disappoint. I know that I'll be attached to the characters, their will be tension between two lovers that will be steamy yet sweet, and a story that will stay with you forever.
A perfect Secret was all of those things. I was biting my nails at some points and others I was tearing up. I was just frustrated at the whole situation. And Christian was such a gentleman *swoon* but something happened to him as a kid and he can never forget that moment. He lives with it and he lets it define him. And Genevieve was such a sweet girl with a fiery spirit and she would do anything for her parents, and she does. She sacrifices her own love for their safety. Not a lot of people would do that especially if you'd have to marry a man like
Wickburgh
.
Overall: A wonderfully told historical romance that not only tells a story about love and lost, but coming to terms with things that are not in your control. A perfect Secret was well perfect and it definitely does not need to be a secret. Lol If you love a good historical romance with lots of danger, this book is for you.
Quotes
The locked door in his heart burst open and all the passion, protectiveness, and love he'd ever felt for her came pouring out like an ocean wave.
Love did make everything perfect.
My passion for writing began at the tender age of 8 and I've been hooked ever since. Of course, I also wanted to be an actress and a ballerina, but one out of three isn't bad, right?
In between caring for six children, (7 counting my husband), my day job, my free lance editing and copy writing, and my many volunteer positions, I manage to carve out time to indulge in my writing obsession. After all, it IS an obsession. My family is more patient and supportive than I deserve.
- Grand Prize:
$20 Amazon gift card and an ebook (INT) or print copy (US Only) of
A Perfect Secret
OR
The Stranger She Married
(winner's choice)
- 5 ebooks
of
A Perfect Secret
- Open Internationally
- Ends July 20th